As a general rule, I try to plan one event, at the most every weekend. I go to church every Sunday, so thats just a given. I do not know how it happened, but I managed to pack a lot into this weekend. On Saturday, I got together with my knitting guild. I have not gone to a meeting in about 4 months so it was nice to go. The ladies in the guild are not only nice, but they are skilled knitters. We had a lesson on Stash Busting and got some really great tips. Our newest member is the author of this blog:
knit lich
Look at her stash busting project:
One of member's also gave me a gift from her daughter: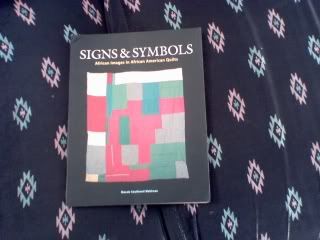 This book is beautiful, educational and inspirational. I am so grateful for it!
On saturday evening, my husband and I joined two other close friend couples for dinner. We had a great time with the kids and enjoyed watching the slam dunk contest.
Right after church on Sunday, came home and cleaned because of course with all that I had done on Saturday, I had not cleaned a thing. And, I was hosting my book club for the first time ever. We read this book:
Julie & Julia
So, I had the bright idea that we should cook something from Mastering the Art of French Cooking and bring the dish to the meeting. So, I had to cook of course. Turns out the recipes in this book were a bit much for me. So, I paid homage to Julia and Julie by making a knock off quick quiche. I am sure this dish did not qualify as a french cooking by Julia Child's standards. But hey, it was good! We also had crepes and beef borgunione. The pictures don't do the food justice. Each dish was very very good! ( the pictures don't do me any justice either. This one is proof positive that big ol' t shirts do nothing, absolutely nothing for my figure!)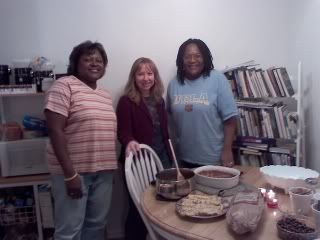 This is a long weekend for us so we are off tomorrow as well! Yeah! Thank goodness because I did way too much this weekend. Though I did enjoy every minute of it!I plan to do a lot of needlework tomorrow. And speaking of needlework, remember the boa i made. Well here is a picture of the one I made for my coworker:
Its black and taken with a camera phone, so its not the best, but it is a finished object! Hopefully, I will post more fo pictures later in the week.
Bye for now and if you are off tomorrow, Enjoy your day! If not, try to enjoy it anyway!