Happy in Cali is finishded. I am planning to do straight line quilting on this one since I am new at Machine quilting. I have been practicing stippling but there is much learning to be done in that area. I ordered a walking foot for my machine which did arrive so Happy is next in line for quilting.
Check it out: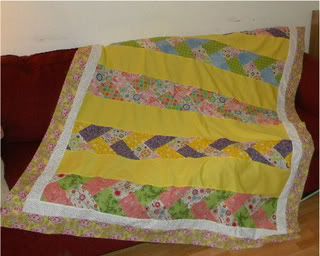 Its going to be a nice little throw quilt for me!
I pulled out my rail fence blocks so that I can focus on getting this once finisihed. This is going to be for our bedroom. I am gathering inspiration from mags and the net to figure out how I am going to lay them out. They are 8 inch blocks and we have a queen so I have to make a good amount of them, depending on how I decide to lay them out.
Here they are so far:
Join the fun over at Freshly Pieced!
Oh, and for a little cuteness, check out my previous post. Cuteness at the end!