Well, I have jumped into the fray of the farmers wife craze! Check out my first two blocks: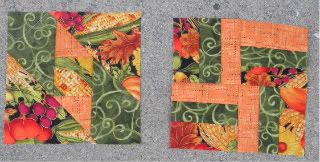 The basket weave block came out a bit wonky. Both are paper pieced. I am planning to paper piece all of the blocks. This is my first time paper piecing and I like it so far!
The Long Beach Quilt Festival is happening now and I took the day off work to go down to enjoy my first ever quilt show. I got a few fun items and saw some beautiful quilts.
This one was made by a seven year old girl with ad/hd. She is a part of the only childrens quilting guild in soCal.
This one was made by a 12 year old boy from the same guild:
Just amazing. I really really enjoyed the show. The market place was sooooo crowded. I got to try out the Elna 720 and viewed some Janomes as well. I confirmed with the Janome guy that my kenmore is indeed a Janome! I ordered some feet for my Kenmore machine and they arrived in a Janome box, so that was my first clue.
I loved the elna and I plan to save toward an upgrade for about a year and hopefully, when the show rolls around next year I will be able to purchase a dream machine at the show. They have great deals!
Thats all for now. I will be back for WIP Wednesday next week, I hope!