I think this might be my 4th WIP Wednesday. I really like this linky party because it keeps me productive. Since last week I have only worked on the handbag that I had cut out. I have stayed up late so that I could craft after my little guy goes down for the night and after I have put in some time studying since I am still in pursuit of my master's degree. I just can't put he crafting aside though! I also got sick so I did not get to do much of anything for a few days. So here is the pattern once again: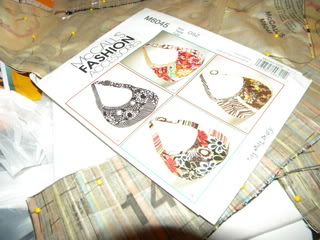 This is the front view:
This is the inside of the purse: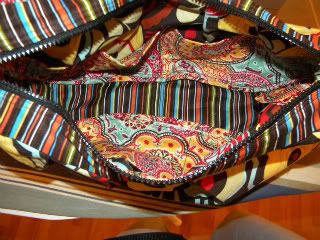 Another look a the inside pockets:
this is the inside of the gussett:
The only thing left is the handle and I will be able to use my new bag. Maybe I can wear it on Sunday for church. We shall see! Other than that, I still have to bind the baby quilt and sandwich the happy in cali quilt. I also have a rag quilt to finish. I think I will get a lot of these finished by the end of june, depending on the progress of my school work. Hop on over to Freshly pieced to be inspired by all the creativity going on!