So, as I was saying Chicago was fantastic! We had a blast. Spending time with friends and family is always good. We drove around Chicago on our first night and I was so mesmerized. I thought, I could move back here! Then, I remembered the winter. But, I talked about that already.
So, my mother gave a us an awesome backyard BBQ! Friends and Family were there in abundance and so was the food. Darn, I should have taken a picture of the food! Ya'll would have been salivatin'! Anyway, my mother THROUGH DOWN!!!!!!! We had: barbecued ribs, hot links, chicken and Italian sausage and some rib tips, spaghetti, greens, potato salad (courtesy of me!) and an incredible peach/pineapple cobbler!!!
All I can say is "mmmm mmmm GOOD. (Diet was out the window!). There was so much food that my husband thought that we would be eating leftovers for days! But, boy oh boy was he WRONG! There was none left! Not even a bone. I am telling you that the pots looked like someone had liked them clean. And as good as her sauce was, i would not be surprised if someone did. Really though, as the old folks used to say, My mother Put her FOOT in that food! (that means it was exceptionally good for those of you not familiar with the saying)My husband thinks she should come to Cali and open up a place and sell her BBQ. We have yet to find anything here that comes close to what we get at home. To top it all, she used an old grill, one those made out of the old fashioned garbage can barrels. It was so old,that the bottom was just about completely out of it. She just put some of those aluminum pans in it and kept right on cooking. WE had to throw it out afterwards though. It lived a good life. RIP Good Grill.......
Anyway, you know you are getting old when the kid's are teaching you how to do the latest dance. This is me, trying to the the Cupid Shuffle:
it was dark already in the yard. that's me in the white shorts. Notice the concentrated look on my face. I have always been slow to pick up the latest dances. But I go this one!
We really enjoyed spending one full day downtown. We saw Millennium Park for the first time. Check us out at the BEAN. This is a picture of me taking a picture of our reflection in the bean:
Here is the bean from a distance. I cannot recall the real name of this piece, but you can see why everyone in Chicago calls is THE BEAN.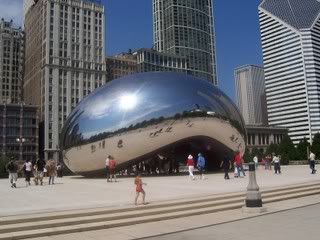 And this is a great shot of the Water feature they have there. See the face. The image continuously changes. The faces are of Chicago Citizens. My sister's brother in law is one of the faces. apparently they just walk up to different people on the street and ask if they can take their picture for this art piece. In person, you can see that the image is behind clear glass bricks with water running down it continuously. Its really cool.
I will end my vacation talk for now. I will blog later about my weekend in Palm Springs. But for now I have one word: HOT! I was a bit miserable.
Knitting:
This is where I am at:
For my swap partner:
Mandy's Candy Bag pattern was written by
Amanda
. She is running a contest and this is my entry!
Not to bad for my first one! Amanda has a great blog. Check her out when you get a chance.
Oh, and I got this yellow yarn at the yarn shop in Long Grove, Illinois.
I made this pretty quickly:
its from this pattern:
baby hat
This was so cute and quick to knit up that i started another one:
Oh, and I am making this sweater to match the lavender hat: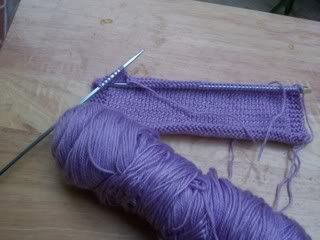 SWEATER
There is more but this is already way too long. Check back for more knitting content.
Thanks for stopping by!