During World War II, food was rationed and the government encouraged United States citizens to plant gardens to provide their own fruits and vegetables. According to statistics, 20 million Americans planted gardens anywhere they could in support of this government plan. At one point, Americans were growing 40% of their own veggies!
In this economy, we might need to revisit this idea. In fact some people are already doing it. I was listening to a podcast on frugal living. The host was describing how she and some of her friends and Neighbors have formed a cooperative where they each grow different things and supply one another with fresh veggies. Talk about saving! They simply trade out. And, these veggies are pesticide free. Since I am planning to be off with no pay, for 3 months once we get the baby home, I am looking for ways to cut costs. I think a victory Garden is a great way to save money. My problem is that I live in an apartment. While many apartments in LA have either a patio or a balcony, I have neither. So, I am going to try to plant a container garden. There are all kinds of resources on the web with info about what varieties to use. So I am thinking tomatoes, cucumbers and pole beans. I have learned that they have some varieties that have small footprints. I am so excited to do this.
When I was a girl, I used to go to the nursery with my grandmother all the time. Though we lived in Chicago, we had a great garden in the yard in the spring and summer. She grew all kinds of things, including tomatoes, collard greens, banana peppers and even pumpkin and watermelon. She also had all kinds of flowers. She was from the south, A Georgia Peach. She had a very green thumb. One summer, I planted a garden with the boy next door,(my playmate, turned prom date.. By the time we were done, we basically had a muddy messy plot, however, we did grow a handful of beans and a few carrots. I made some sort of soup out of them. Hopefully, things will go a lot better this time! We will see if I inherited that green thumb!
So Here is my little Victory Garden! I have one tomato plant, one yellow bell pepper plant and 3 sunburst squash plants. I hope I can do this! Wish me luck. I am already worried that they won't get enough sun. I will have to figure that part out.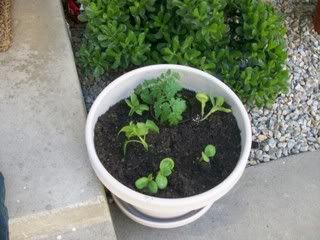 For more info on victory gardens click
here
For more info on container gardening click
here
Adoption progress: Well, we will be meeting our new little one in less than 3 weeks if all continues to go well. Please keep us in your thoughts and prayers, as I know you have been doing. Its very surreal. We are doing everything we need to do to get prepared, but somehow, its really hard to believe that its going to happen. If all goes well, a month from now, I will be holding my own little one! Pray!