I have been away from the blog lately. I have been busy with studying and family as usual. I had been quilting and have some progress to report. First, a full view of Happy in Cali: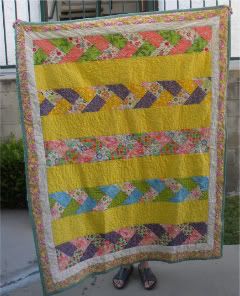 This is not a great shot but its the best I can do with my camera. I really love this quilt!
This has been finished for a while but I just kept trying to get a better picture. Oh well...
Next up is this baby quilt that I finished in July. Again, took forever to get it photographed! Its not perfect but its so soft and cuddly. The fabrics are all flannel and that makes it so nice for babies. I originally started out making this for a friend but did not get it done in time to give to her, plus the sashing is so uneven. I am not sure what I will be doing with this one. I really do still love this one so much as well.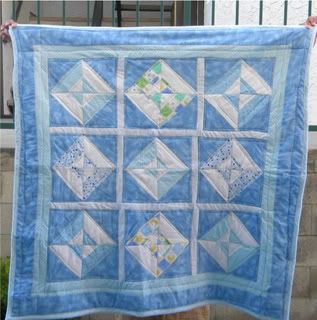 So, after this one was done, I could not find time to quilt. When I did have time I was just too tired. So, I did not work on anything for weeks. Until I decided to go ahead and cut fabric for the next baby quilt.This time it would be pink for a baby girl recently born. I decided to try out the 10-minute blocks. I already had the fabric so I ran out and got the book. Now I have mentioned before that my crafting only happens when my little guy is sleeping. So I guess it was about 11 PM when I sat down to cut this fabric. I put a brand new, very sharp blade in my rotary cutter and for some reason I put it down and went to do something else. I came back and picked up the rotary cutter to get started. Well, guess what happened? I did not have it in safe mode and you guessed it, I dropped the cutter! The blade made a clean 1.5 inch cut in my leg and necessitated a trip to the ER. I ended up getting 3 staples. I was mocked by everyone in the ER when I told them that this was a quilting accident!
After that, I was hesitant to quilt late at night. So, it took me a while to jump in again to get the quilt below going. But since I used the 10 minute blocks it did not take long!
I am planning to add a thin white border and then another 3 inch border in a pink polka dot print. Then on to the quilting. I will likely do a solid pink backing or maybe brown. We shall see!
So, that's my progress so far! I still have to put one more border on my red, black and white quilt. I am thinking of calling it Newspaper....because of that very old, very bad joke.
For now, no more late night quilting! And, I had the good since to invest in a rotary cutter that is always in safe mode when not in use. Thank goodness for Joann's coupons!
Finally, just tad bit of cuteness!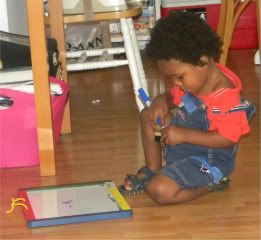 Join the fun over at Freshley Pieced to see what many talented folks are up to.