Well, today, I will turn in the last of 5 papers for this class. yahoooo! I will now be focusing on studying for the objective exam. I passed the pretest by 1 point. It was designed to help you pinpoint your week areas so you can focus your studying. I hope to be ready by August 1, or maybe sooner. I must say that I am really enjoying the program. I am wondering why I did not do this a long time ago.
Anyway, since i finished my paper a tad early, I was able to get in some beading and crochet. Check it out: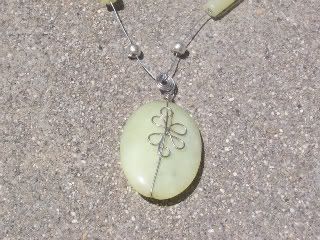 I got the pattern for the slippers from epatterns. This was an easy project and I finished them in about a week. They were a huge hit at the party. The ladies at the party told me I should sell them! I actually am doing a holiday craft sale in October, so I will be whipping up a few more of these to put in the sale.
On the feet of the recipient:
She loved them!
Well, I have a tiny bit of time on my hands, so While I am doing laundry, I better get some crocheting done. Or, maybe a little sunday afternoon snooze instead?!