Well, I have finished 9 squares. This is a free form quilt but I think mine is a little too free form! The squares are odd sizes but I plan to make them uniform. This has been a lot of fun to do. I have always wanted to do this but have never gotten this far. I attempted one about 2 years ago but got frustrated trying to keep everything straight and gave up. But making this one, combined with everything I am learning in my sewing class has me looking forward to my next attempt. This quilt is special because I made it as a symbol of my faith that I will be a mother one day. I decided that I needed something tangible to look at when I think about being a mother to help me stay focused on the goal and not on the challenges of the journey to the goal. Sometimes, I get so caught up in the challenges of the journey and I really want to give up. Some days, in my mind, it seems like it would be easier to give up and to stop hoping. But I cannot imagine living my life without hope. Its always easier on me emotionally when I have something that I am looking forward to. But, like a lot of us, I can totally forget that when the pain and frustration overwhelm me. But if I keep my eyes focused on the end of the journey to motherhood, I can make it through all the challenges that I meet along the way.
About a month ago I heard this about James Stockdale:
In a book by James C. Collins called Good To Great, Collins relates how Stockdale described his coping strategy during his eight years in the Vietnamese POW camp.[1]

"I never lost faith in the end of the story, I never doubted not only that I would get out, but also that I would prevail in the end and turn the experience into the defining event of my life, which, in retrospect, I would not trade."
This spoke to me. Dealing with infertility and loss is absolutely a very very challenging experience (to say the least), and though I cannot say that I would not trade it, I know it has changed me in ways that maybe I would not have changed otherwise. These are changes that I value. And like Mr. Stockdale, I refuse to lose faith in the end of the story.
Since I do not know what I will end up with, I am making 2 quilts: one with a boy theme and one with a girl theme. And hey, who knows, we might end up with one of each! This is obviously the one for the boy.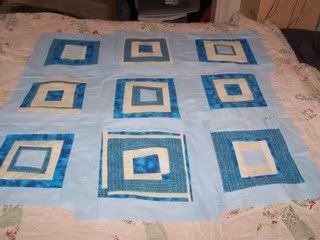 We are making progress slowly with the adoption process and hope to start the homestudy process very soon!
There has been some knitting progress, but more about that in my next post.
Thanks for stopping by!