I was planning to enter my quilt in the online show next year in the spring. Who knew there was a fall festival! Yeah! So I am entering my my Crazy Shortcake Quilt, only the third quilt I have completed so far. I have blogged about it before but I wanted to show it because I am very proud of it and it was so well received by the recipients. Check out their smiles!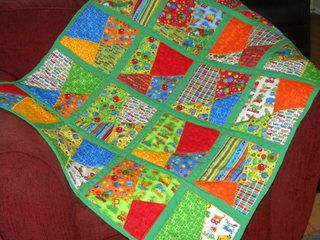 This was done using a quilt as you go technique and a layer cake. It was easy, fast and much appreciated. I am planning to do another one for another friend having her first baby boy early next year.
Go on Over to Amy's Creative Side and join in the fun and view some lovely quilts!