Well, we had a lot of fun in Chicago. The only slightly disappointing thing was that i did not make it to Stitches Midwest. Bummer. But there were so many friends and family to see and so many things to do that I just could not get there. But, lucky for me Stitches West will be here the beginning of next year. Can you believe that the year is already 3/4 of the way over?!!?
Any, since I did not get to go to Stitches Midwest, I made my way to two LYS.
I bought some yarn for an upcoming swap and a nice pattern I will show you later. I am planning to knit this one for my BFF in Chicago. This is the shop: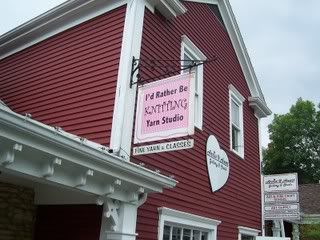 This shop is in Long Grove, Illinois. Its a great little town. Check it out:
The Village of Long Grove
.
Its such a girly place with cute little shops and nice restaurants. My great friend and I spent the day there until it started pouring down rain! Oh well, at least I got my yarn!
This shop is in downtown Chicago and I bought a little yarn from there as well.
I did not catch the graffiti on the door until after I saw the pic. Well, its sort on on the low end of downtown Chicago. But the shop and the people were very nice. I would say a good time was had by all because I had my husband, sister, neice, neice's friend, another friend and her son with me. While I was at the yarn shop, they were all eating pizza next door, accept for my hubby and my sister, they hung out with me at the yarn shop.
Here is their site:
Loopy Yarn
This was a fun filled day spent downtown. There is so much to blog about this trip so I will stop here and post again soon with more news or the trip and some knitting progress reports as well.
have a great weekend! thanks for stopping by.