Labor Day weekend turned out to be fantastic. My dh and I spent Saturday in San Diego with some of our best friends and we had a great time. I was relaxed and really enjoyed spending time with my friends. I have found that in the past I have spent way to much time focusing on what I do not have and allowing those thoughts to drag me down. But I have made a concerted effort to make 2007 a better year, spiritually, mentally, emotionally and physically. In doing that, I have realized that the most important thing in my life is love. And I get that all kinds of ways. Being in Chicago made me realized how much I am loved by family and friends alike. When I look at my dh I realize how blessed I am. I waited what seems like a long time for him to me. But he was totally worth the wait! And, days like this past saturday solidified the fact that I am rich. Rich in Love. I am truly grateful for my friends and my family. For sure they have been there for me and I feel blessed to be able to be there for them. Emotionally, I have been able to give back this year, because my heart is full. Physically, I have managed to lose about 17 pounds, though I still have a ways to go, I am a lot better off now than I was last year this time. Spiritually, I have definately been more connected to God and this is truly very important to me. I believe its because of this, that all the other things in my life are much better. I have a measure of peace that I did not have this time last year. So, I am better off mentally as well. Plus, I have knitted a lot more this year and we all know that knitting is the new yoga, so hey, I am batting a thousand. And I get to live in a place that is gorgeous most of the time! Check out San Diego:
This is a star fish!!! A real one!
Me: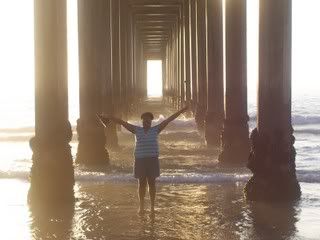 Me and my hubby:
Sunset:
My friends enjoying the sunset:
It was a great way to close out the summer.
I spent Monday crafting amongst other things!Check out my free form quilt project. This is perfect for me because I really don't know how to sew yet. (i start my class next week!) This actually called for the stitches to be sort of off. Bingo! Perfect first project. I made three squares so far:
I am really enjoying this project. I got the pattern from DIY Network featured on an episode of Uncommon Threads.
I am so excited to be trying something new. Check back for more updates on my projects. Knitting update this weekend.
Talk back later!