Today was knitting guild meeting day. As you know from previous posts, we have been working on a charity project. We were all to make various squares and the squares were to be knitted together to form lap blankets. The lap blankets are going to be donated to a convalescent home here in the South Bay. THe group met in August and knit together the squares. Some were taken home by different members to knit together. Today, they were all brought back in completed/
Well, I was having a hard time making all of my 10x10 squares actually all be 10x10Q Thus, the giant granny square!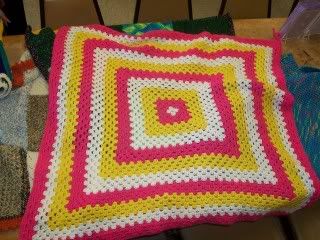 One of the girls called it Pink Lemonade, which is exactly what I thought of as I was making it!
We collected 21 blankets in all and they turned out beautifully! For great pictures of all of the blankets check out our guild webstite. I am not sure when they will be posted but check back often!
Slipt Stitchers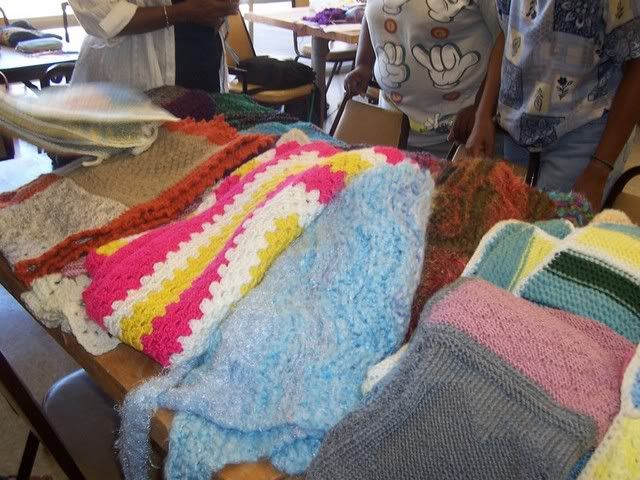 This was such a great project that I am going to attempt to complete my these and make another one: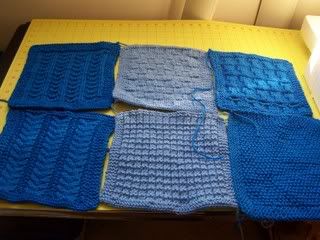 Our guild meeting always includes a class. Today we had a quick lesson on converting knitting patterns to crochet. It was very informative. It was taught by one of our guild members, Joyce Renee Wyatt. She is a designer and she specializes in converting knitting patterns to crocet. She teaches for Stitches. We are so blessed to have someone of this caliber in our group giving us lessons. Here is one of her designs. She actually brought this one to class:
Joyce Wyatt Design
This was a fantastic class. She is a great teacher and encouraged us to convert a knitted sweater pattern to crochet. I think I will try this with a scarf patter before I tackle a sweater!
Last but not least, I have to post a picture of what I received from my swap partner. I joined the Knit Happy Swap on Swapbot. For the month of August we had to create a knitted item for hour partners. This is what I got from my partner:
Its the cutest little felted bag. And the pin is removable and made by another person on Swapbot. Swapping is fun. I have done about 4 of them so far and its turned out great!
Well, thats all for now.Stay tuned for a new charity project that my guild is participating in! Plus an updated photo on the baby sweater.