Well, my hubby and I dared to go to the division playoff game on Saturday night at Dodger Stadium because they were playing our home team, the Chicago Cubs. Unfortunately our hearts were broken once again by this team. But, we actually enjoyed being at the game because unlike these people: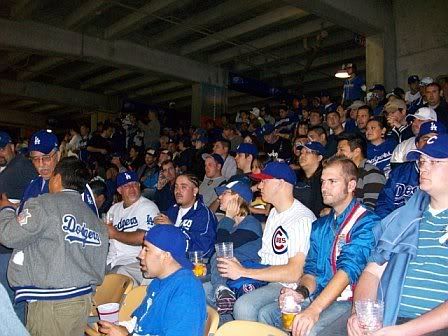 We did not wear any cubs gear. You might say we were chickens and we would say we were! The Dodger Fans were brutal and those poor people did not even stay to the end of the game. They were given grief the whole time. Dodger fans in the cheap seats can be brutal, especially once the beer starts flowing. It was crazy.
But, even though the cubs lost, the atmosphere at this game was amazing. The place was charged. That part was cool. Would have been better if we were dodger fans! If so we would have felt like these folks:
At any rate, there were some nice Dodger fans. One even took this picture for us:
Then again, we were incognito, so he did not really know we were Cubs fans.
Anyway, I did get some crocheting done. I am making progress on my Granny Square afghan. I am determined to finish soon. I want to get started on some projects for the child that we know God will bless us with soon. We are hoping for a placement soon! But I cannot start a new afghan until this one is finished. I have been working on it for months and months. This week, its done! I mean it!
Look at this determined look on my face:
This will be an FO post by the weekend!