Well, my hubby and I had a great weekend. It was one of those weekends that was full of peace and relaxation and really enjoying one another. We live in Southern California. There are pluses and minuses to living here. One of the greatest things about living here is the beautiful weather. This weekend was very very nice. The other great thing about this place is that there is always something cool to do. In the summer, there are tons of free concerts to go to. When I got off work on Friday my husband picked me up from work. Usually, I feel super tired after work and what I want to do is go home and sit on the couch and read, watch tv and/or knit. My husband is a teacher so he is off in the summer. He spends his days pursuing his passion: screen writing. Usually after work I am all tapped out, but he is all reved up. But at the start of this weekend I was feeling energetic so we went to The Grove and ate at the Farmers Market.
We got to eat outside and listen to some free music by The Front Porch Band. It was great, very relaxing. Saturday, a friend and I went out to a lawn sale in Malibu. The drive was great and Malibu is beautiful. Plus, I got a great needlework book for $5.00!
Saturday Evening, we packed up our bags with books and my knitting and headed down to Plaua Del Rey. We sat out on the beach in our chairs and read and I knitted and we watched the Sunset. We had a couple of sandwiches and our evening was golden!
On Sunday, we went to see our friends renew their wedding vows in celebration of their 20th Wedding anniversary! THe ceremony was beautiful.
The weekend was perfect......until............we went grocery shopping. The shopping part was great. It was only about the 2nd time that we actually shopped together in our 5.5 years of marriage. But, we did not fight and we got everything we needed, including my new favorite healthy dessert: sugar free popsicles! So, what went wrong?
When we got into the car to go home, the car was DEAD! And guess who had not renewed their AAA membership? thats right! US! Well, we decided to remain calm. We prayed, called AAA anyway and they allowed us, on a Sunday evening, to renew our membership over the phone and they sent us some help! The guy was there in less than half an hour! He gave us a jump and we got home just in time to put my popsicles in the freezer! They survived and we survived. Guess what I did while waiting on the AAA guy? KNITTED!!!!!!!! Check out my progress:
Me knitting in Playa Del Rey, on the beach!:
The Sunset:
oops, a little bit of my husband's arm got in the picture!
Oh, forgot to mention that on Thursday night, we went to one of the many outdoor malls to enjoy another free concert: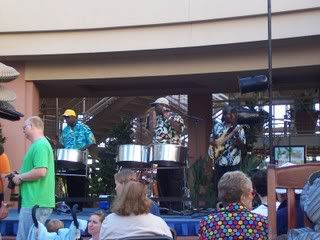 Thanks for Stopping by!