I begged my parents to send me to a sewing class. I lived on the Southside of Chicago and we had a mall where there was a Singer store. In the basement, they offered sewing classes. My best bud at the time was planning to take the class over the summer and I begged my folks until they gave in. (i was always kind of good at that!) I am not sure why I had to wear them down, maybe the cost of the class. Who knows. Anyway, they paid for the class and I started. Shortly after I started, my life got super busy and I got really destracted. I had my first little boyfriend and he gave me a little ring that he got from the candy store. At about the same time, my sister, Who was about 12 or 13, had attended her first wedding. She has loved weddings ever since. So, when the kids on the block heard about the ring, they started teasing us and asking us when we were getting married. Well, you know what happened: My sister started planning the wedding! We had rehearsal, we had a reception and I even had a white dress and veil! (one of my friends was catholic, so I used her veil from her first holy communion.) I also went on a vacation that year with my Grandmother. I think we went to Atlanta and New Orleans. I said all that to say, that I barely went to the sewing class that I begged for and consequently, did not learn a thing!
Fast forward to 2007. I decided to do the things that I always wanted to do. So, signed up for a sewing class. I have taken 2.5 5week sessions and below is a not so good picture of the best thing I made to far! Its so far from perfect and its not even done but I am so proud of myself that I had to post what I have done so far:
Its McCalls M5555 View B
As I said, if you look close you will see tons of mistakes but I think its great for a begginner!
Also, here is another Crochet FO: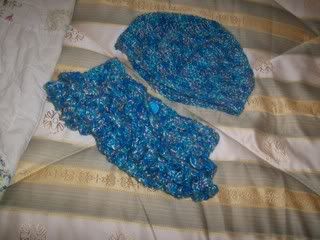 I got the hat pattern online and I designed the neck warmer! It has cute buttons but again, I did not take a great picture.
I am almost finished with my first sock. I was going to crochet it to get the socks done quickly, but I had to admit that the knitted sock looks so much better so I forged ahead. I think I will get them done this week and will post a picture later this week.
Anyway, I off to continue my day of crafting!
Thanks for coming by!