Well, I finally got up the courage to start quilting Happy in Cali!. I was hesitant because I am a fairly new quilter and have only attempted straight line quilting with my walking foot as well as crazy quilting with the decorative stitches on my machine. I was going to simply grid quilt this one and at the last minute I decided that I had to try it at some point. Happy in Cali is for me so it really does not have to be perfect, as if its going to judged. So I decided that the only way to learn to stipple is to stipple so I did it! I have to say, I am so happy with the results. I know that there are many mistakes in this quilt and one day when I look back on it years from now, I might sort of roll my eyes at all the mistakes. But today, I AM SOOOOOO HAPPY WITH THIS QUILTING!
Lord knows I will not be winning any prizes for these photos! Not so great but here they are: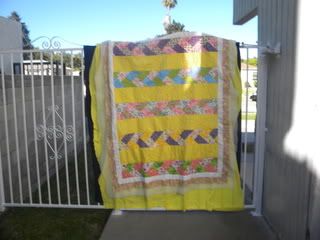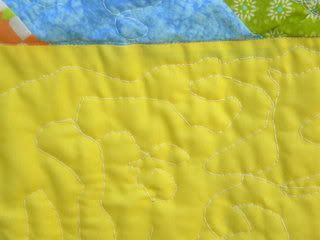 I know its really not stippling but more like loop-d-loops. I still love it! Thats all that matters, right?
Stats:
5 current projects
The baby tube quilt needs to be bound
The baby rag quilt needs the ragging to be finished up and then washed
The Jelly Roll 1600 will get two additional borders before its sandwiched
The other Jelly Roll 1600 needs the piecing completed
Happy in Cali needs the quilting to be completed and then it can be bound!
I have no new projects at this time but I am starting to think about some quick lap quilts for family Christmas gifts.
Still working on the masters and still planning to be finished soon and very soon!
Other than this, I am sort of drawn to the Farmers Wife Quilt along that are going on right now. I am planning to purchase the book and to attempt to make this one over the next what will likely be several years of my life! At first, I was turned off by the fact that its done with templates. Then I heard over on the Hip to Be Square Podcast that there are paper piecing patterns out there. So, now I really think I am going to do it!
Thats my progress. Pop on by Freshly Pieced to see what everyone else is up to!