Happy in Cali is done! Unfortunately, its late and the pics did not come out well so I will post a pic of the full piece when I get some outdoor shots of it. In the meantime, check out the quilting and the binding:
At first, as I was making the binding, I was thinking that I had made the wrong choice. But when I started stitching it on with my walking foot, I knew I had a winner. I really love this quilt. Its backed with yellow flannel. I really like the way flannel feels on skin so I choose it more often than not to back my quilts. I usually stock up on it at Joann's on Black Friday because its always on sale then. : )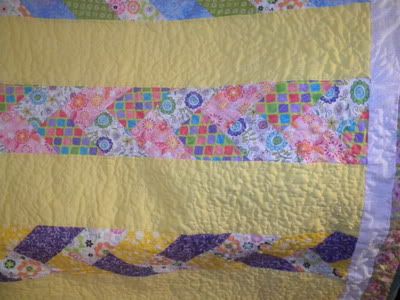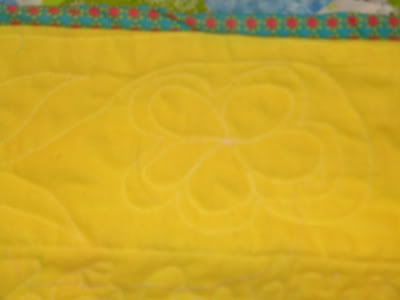 I quilted the entire thing myself. I decided to free hand some flowers in the borders. I heard an interview over on
Craftsanity
and the artist was speaking about how doodling helped her come up with some of her fabulous embroidery designs. I also reviewed some videos on free motion quilting and they talked a lot about practicing by drawing out the design on paper so that your brain can get used to what you want your hands to do. Well, I have been doodling this same flower since I was in elementary school so my figured my brain should be pretty familiar with it by now, since I am now over 40! I made some booboos but I am overall very pleased with my first attempt. I am so happy I dove in because now I feel energized to finish my other projects!
And go on over to Freshly Pieced to check out some more fabulous work from the WIP Wednesday Participants!: