This year, I did not have much time to prepare for the holidays. I am still pursuing my masters and had prepare for an oral presentation due on 12/21. Since my son came along, studying has not been a priority so I was barely hanging on academically. I had no motivation. I just wanted to be with my family and craft. So, since I did all that, I ended up putting off the studying until the last minute. I am happy to say that I passed. So that is over with. Unfortunately it also meant that my shopping, just about all of it, was done on Christmas Eve!
At any rate, I did manage a few handmade items. We really want to create memories and traditions. I did not grow up with many family traditions so I really want that for our son. So here are some of the things we did this year that we plan to continue.
Family Pajama Pants! One thing my parents always did was get new pajamas for us every Christmas. I decided to take it a step further and make family Christmas Pajama pants. Check us out:
I got the fabric at JoAnn's on Black Friday. I found an easy tutorial online and made the pattern and then sewed them up. Very easy project.
I also participated in an ornament swap. I received some beautiful handmade ornaments for my tree. Here is a picture of the ornaments I made: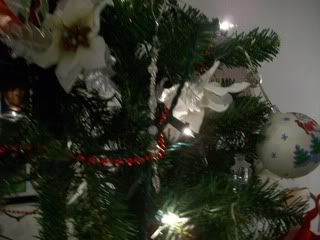 Its sort of a beaded icicle. I swapped these and only kept one for myself. They were a hit.
Then decided to try my hand at candy making. I made these decadent sea salt carmels. I found the recipe
here
These are these most decadent treats ever!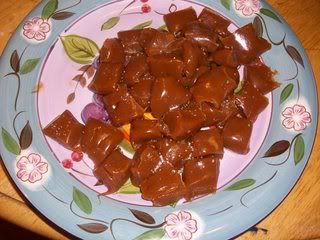 Here they are wrapped: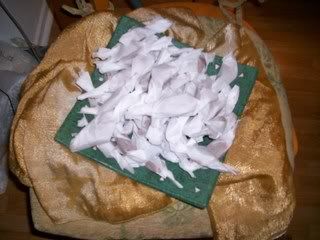 The Holiday has been fantastic so far. Our son is the best gift we received this year.
More Christmas day photos to follow.
Oh, here is our 2009 Christmas Tree: