Saturday was a great day. I had been very sick all day on Friday so I was not even sure if I would make it to my May Crafts Day with my group. But my stomach settled down just enough for me to join my crafting buds!. People were doing everything from Knitting to painting to sewing. There was even a girl there who is trained in acupuncture and she was making earrings out of acupuncture needles! Another lady was making clutch bags from place mats of all things. And we had some kids there this time around. A new member brought her son and daughter. The boy was making a spiderman quilt and the daughter made the cutest dress with a lot of help from her mom. Check us out!
I was ablt to finish quilting my baby quilt and am now ready to bind! I might get a finish this month! Check out the quilting:
Front: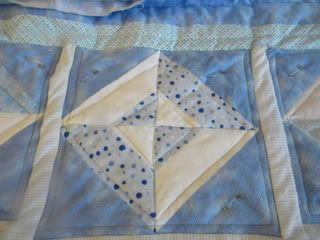 Back
I am very happy with my progress in crafting. However, I seem to have stalled out in my progress toward my master's degree. These self paced programs are a blessing and a curse on some ways. Its nice for working parents because you can do as much as you can do and not be penalized. But its trouble when you lose your motivation and energy! I am still hopeful that I will be finished by the end of June but I have so much work to do! I need serious prayer.
And when you live with this much cuteness, who can blame me for not wanting to spend my time with my nose in a text book!