Another week has gone by and its already May! Its so hard to believe that the year is almost half over. Time sure does fly. Befoer we know it, we will be eating turkey and unrwrapping presents under the tree. But lets not go there right now.
First up, my rail fence bed quilt. I decided to try to make sort of a disappearing nine patch pattern with the squares to make more interestingly scrappy! I think its turning out good so far, though I wish that I have used a solid square in the middle instead of a pieced one. Each small square is 8 inches so the 9 patch was gigantic. I like it so far.
Since I finally got my walking foot for my machine, I have been slowy quilting this way over due baby quilt. The walking foot makes a big difference! I think I have managed to get 3 squares quilted so far.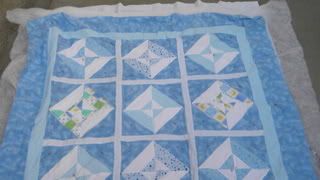 (The sandwich is bad, I know but I will make it work!)
Here is close up so you can see the quilting:
So thats it for me so far. Check out all the other crafy happenings over at Freshly Pieced, every Wednesday and maybe join in the fun!